ALAINA LANDER
(Actress: "Sleeping Girl")
- When did you first hear about EATERS OF THE DEAD?
- I first heard about EATERS OF THE DEAD when in grade 4; some kids were running around, outside the school, yelling "I get to be in the movie THE EATERS OF THE DEAD!" and saying "Nobody else does, because we were the last people in line!". There were probably 5 or 6 of them. Turns out none of them did get into the movie!
- How did you get involved in this project yourself?
- Like I said, I heard about it at school and I went and put in my application. We didn't get a call for 2 weeks. So, one morning, somebody phoned and said "Sorry for not phoning you sooner, but we have a perfect part for a little blonde girl!". And it just went on from there... We accepted, of course!
- Was it your very first experience in the movies?
- Yes, it was, but I hope it is not my last!
- But you had already done a bit of acting at school, hadn't you?
- Humm... We always did games and stuff like that, where we acted, but, in my shots, you just couldn't smile and that's pretty basic.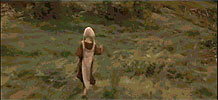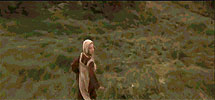 - Do you remember when exactly and how long you worked on EATERS?
- I remember it was after school got out for the summer, and for about 2-3 weeks...
- How old were you at the time of the shooting?
- 10! It was the summer of grade 4.
- What did you know about this project when hired?
- That it was a movie, called EATERS OF THE DEAD, and that's about all!
- Had you read Michael Crichton's book?
- My mother and I were going to, but it got to gory for a 10 years old kid...
- Who is your character? In the final credits, you are listed as the very mysterious "sleeping girl"...
- I didn't really have a name, I was basically a small girl. I was named "sleeping girl" because, before they cut it out, I was sleeping and Antonio Banderas' character looks down, and seeing my sleeping angelicly, realizes "our people" are not so barbaric as he thought.
- In what scene(s) of the final cut can you be seen now?
- Where someone says "Look, there's a girl down there!" and "Look at her!".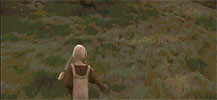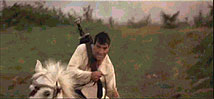 - What were you told about your part?
- That I needed to look all angelic, then fall asleep, wake up, run looking terrified down a hill, and get picked up onto the back of a moving horse, and then get carried away by my "mother".
- Did the director explain to you what was supposed to wake up and terrify you?
- I'm not really sure, but I think it was the sound of the Eater guys trumpity thingys.
- So that wasn't the sound made by the watchman on his tower (to give the alert to the villagers) that woke up you (or, was supposed to)? (maybe this is why they cut your sleeping scene: because it did not match with the watchman giving the alert...)
- Maybe I was a sound sleeper!
- Did they perform the Eater sound on set, during the shooting?
- No. It was added later in the soundtrack.
- Do you have any idea why they cut the "sleeping" part of your scene?
- I think they cut it because it was boring and not very exciting to watch, and had no real impact on the rest of the film...
- There is a shot where you are seen (running down the hill) from a distance. I was wondering... When filming this shot, how did you know when the camera was rolling or not (because the camera and crew member must have been very far from the place where you were standing)? How did they communicate with you?
- They simply used walkie-talkies!
- There is another shot (supposed to be Banderas' character's point of view), where you are seen running from behind, and the camera is chasing you. Was the camera mounted on some all-roads vehicle for this shot?
- Yes, it was. And it felt like I had to run down that hill a million times! But it wasn't supposed to be Banderas' point of view: it was the Eater guys' point of view.
- Really? I don't quite understand. If this shot was supposed to be the Eater guys p.o.v. (in this shot, the camera is almost reaching you), then, when saving you, Banderas' character would have been himself very close to them, right? This doesn't match with what finally ended into the film, where the Eater guys are not *that* close of your two characters when Banderas grabs you... Do you think (or know if) the scene was originally conceived differently? (I know for a fact that all the Eater leader scenes -the one with the antlers- were added a long time later, the scene where Banderas sees him right before saving you included)
- Honestly, I have no clue!
- Were there (actors or stuntmen dressed as) Eater guys involved in your scene, in any way, or supposed to be in it? Were they around when filming your shots (awaiting for some reverse angle of the chasing p.o.v., for example; or filling the background)?
- No. None of the Eater people were in any of my shots, though my stunt double played one.
- Does this mean that your stunt double was a man?
- No. Actually, it was a she, Marny... She was about 5'2 and had really dark hair and eyebrows. She had to wear a wig and die her eyebrows with tatoo dye. Stunt doubles play men and women and it doesnt say in the movie that the Eaters were all male. I remember her practicing to get pushed down by the big Irish Wolf Hound they had on set. They died him red.
- Also, towards the end of your scene, there is a lot of mist on screen. Did they use some smoke on set, during your shots, or did they rather add it afterwards, with special visual effects, during post-production?
- I think it was special effects...
- Did you imagine some fictitious background for your character?
- No. I was just a character, a fictional being, with no past and no future.
- Where did they shoot your scenes?
- Outside of Campbell River, in the valley by the "Village".
- What sort of directions did you get from the director, John McTiernan?
- As I remember, he was great. He was very confident with what he was doing and he was really good at explaining what I had to do in my shots.
- Was Michael Crichton present too on set during the filming of your shots? (He is a very tall guy, so you could not have missed him!)
- I think he was on set during the filming of the shot where we galloped into the fort...
- Was Antonio Banderas involved in all your shots or was he replaced by his stunt double in some of them?
- He was involved in all of my shots, except the one where I ran down the hill. I only met his double once, in the dining tent.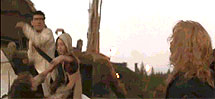 - So, that was you and Banderas in the shot where your character gets picked up onto the back of his horse?
- Actually, it wasn't me, it wasn't Banderas and it wasn't Tin-man (the horse)! It was 2 stunt doubles and a running double for the horse.
- I have to ask (otherwise, I will surely receive tons of emails from his European fans, for not having asked you!): how was it like to play opposite Banderas?
- He was a really nice guy, and had a really good sense of humor. Every so often, my friends bring it up, and their mothers ask me the same question! (laughs)
- I have heard that some of the horses belonged to the director but I don't think Tin-man was one of them, or was he?
- Actually, Tin-man was the director's horse! I just remember he was a gray stallion (his colour is technically gray, because he has black skin; a true white would have pink skin) and he seemed really big to me!
- Did you do any rehearsal?
- Lots for the shot of me running down the hill.
- Did you get advices from the stuntmen on set?
- I talked to them over meals and stuff, and before and after shots.
- Had you ever ridden a horse before that?
- Yes, my grandma has a horse, and I have been around horses almost all my life.
- Any bruises to mention during the filming of your shots?
- No!
- When you are entering the fort, two men open the gate with all the stakes, to let you in at the very last second, and the horse nearly skims the camera. Was it a particularly tricky shot for them?
- Actually, I don't think so. If you stood by the gate, they could have it as wide as you want and still look like the horse was just skimming through...
- Could you elaborate on your costume and make-up?
- My costume was a redish dress, with a smock thing, linen hat, and leather bootie things, and leather hair ties. My make-up was just fake dirt.
- Did you know that this "sleeping girl outfit" was on sale at reelclothes.com?
- No, I didn't.
- Apparently, a lot of footage was edited out from the movie. Did you work on other shots that never made it in the final cut?
- No. Basically, they only cut one or two, when I was guarding the sheep and when I fell asleep...
- Tell me more about the sheep. How many of them were there?
- Some, maybe a dozen... I was supposedly a shepherdess.
- Was there some animal wrangler with them?
- No. They are sheep: they do not need a wrangler!
- So you weren't told how to "guard" them?
- No. There were people to take care of them, but I was just pretending to look after them.
- Were they mostly peaceful or did they run everywhere, frightened by the cameras and all the crew members?
- They are film sheep: they've acted all their wool-y little lives!
- On average, did they do a lot of takes (of your shots)?
- Oh yes, they did. A lot!
- Do you remember the shooting of other scenes in which you were not involved but which were not included in the final version?
- Sorry, no. I was only involved in my shots.
- Had you relatives (or friends) involved in the shooting?
- My brother was.
- Have you heard about additional photography on this movie?
- No, I hadn't.
- By any chance, do you have any picture of you from the set?
- Sorry, but no outside cameras were allowed on the set! Even though we wanted to take some, we weren't allowed...
- There are rumors of a professional dispute between producer Michael Crichton and director John McTiernan... Did you witness anything on set?
- I was 10 years old. I didn't even know what a professional dispute was!
- Do you know why they finally changed the title of the movie, from EATERS OF THE DEAD to THE 13TH WARRIOR?
- I heard because it was too gory.
- Did you see the movie in Canadian theaters? Because the version released in Canada is rumoured to be 15 minutes longer than the other international ones...
- Yes, I saw it in Canada. But, because I haven't seen it in any other countries, I can't say whether or not it has additional scenes.
- Well, as far as I know, the video version available in Canada is the same one than the international theatrical version. So, basically, if you have one, and if there is no difference at all between this video and the theatrical version you saw in Canada, then that would partly answer my question...
- Then, no. It was the same.
- How did you feel about the finished/released version of THE 13TH WARRIOR?
- I thought it had no plot, was really gory, but, over all, pretty good.
- Were you disappointed to discover that some of your shots had been cut?
- Not really. It's just the way things go. And all of my friends have never been in movies so, I had my little glory thing!
- Anything you would want to add? Any anecdote you would remember?
- I'll never look at movies the same way ever again. Oh, and those sheep, they wouldn't get out of my way when I was supposed to run down the hill!
---
VERSION FRANCAISE :
Non disponible.