- Could you tell us a little bit about your debut? I read that you have a dancer background?

- Yes, that's right, I began my career while playing in a big musical and, after that, I was solicited many times to work in music hall, thanks to my knowledge in dance (any type of dance) and my good physical shape and looking. I also worked in traditional theater. For years, I actually did combine the two disciplines: shooting movies in the morning, then going to theater to give representations in the evening.

- How did you end up working on CONAN, THE BARBARIAN?

- I was precisely playing in a theater located in the center of Madrid (the capital of Spain), when my then agent got me a minor part in CONAN. Originally, it simply was a film extra job. But, when I got there, John Milius probably found me rather photogenic since he himself decided to "flesh out" my role a little bit, with the result that one can now see me longer on screen than envisaged...

- In which scene can one see you exactly?

- I am one of the orgy slave girls. If you pay attention, I stand out from the other girls: I am first seen topless, with some sort of helmet on the head, looking kind of stoned, drugged; then I rise to go towards Conan, who wounds me with his sword at belly level, killing me on the spot.

- Ah, that's interesting, I always thought you were the girl given to Conan in the cave scene, when he is still a pitfighter; that's what's written on many websites, anyway...

- No, that's wrong, it's a common mistake. This is not me in that scene, it's another girl. I never was in that scene. Only in the orgy scene.

- The error is now corrected! So, let's go back to your scene. You said that Conan killed you. However, oddly enough, in the movie, one sees him simply pushing you on one side... Is this you on these two captures?

- Yes, that's me! (laughter)

- Does this mean Milius filmed two alternate versions, one where Conan killed you, and another one where Conan only gave you a shove?

- No, we only shot one version of this scene, where he hits me with his blade. The proof is this photograph, taken during a break between takes, which you used on your website. The shot where he hustles me doesn't come from an alternate version: he wounded me with the sword and then he pushed me on the side. Apparently, in the final cut, they did not use the first part of the take (where he was cutting my belly) and only kept the last part, the hustle...

- Still, a small detail is annoying me: in the movie, Conan pushes you on the left side; but, on our photos, it seems as if you fell on the right side...

- Yes, you're right, that's odd... My guessing is that it's due to the editing of the scene: after cutting my belly, Conan pushed me and, in the action, I ended up falling on the right side.... Well, that's how I see it.

- I have this theory, but... I don't know...

- Which is? Tell me...

- What if Milius shot a version where Conan simply pushes the girl (instead of killing her), with another extra, on another day, after you had left the set? To me, the girl that he pushes doesn't even look like you. Excuse me to say that, but she doesn't seem to have the same buttocks than you, for example...

- (laughter) Yes, your theory is interesting and rather plausible... But what I can say for sure to you, is that the (dead) girl who is laying on the floor is me! If you look closely at my buttocks you will see that they are rounded... Maybe they do lack some shape when I am standing up, but considering that [on your screen capture] I am bending forward, it's quite natural that they are less protruding, right? (laughter)

- Ah, you were on the set, not me, so I think you know better than me! (laughter) I noticed that you had a mark on the thigh. Is it some sort of birth mark?

- (Laughter) No, in fact, it is a bruise! Let me explain: little time before, I had just been in another movie, a Spanish-German coproduction, LA HORA DE SUSAN WHITE (later retitled USA, VIOLACIÓN Y VENGAZA [Luis Merino, 1983]) and there was a scene where I was chased by a 4x4 car intending to kill me. I was wearing stiletto heels and running ahead of it when, at a given time, I was supposed to stumble and fall on the ground, and that's precisely what I did and I got this bruise.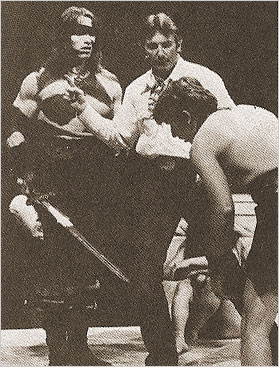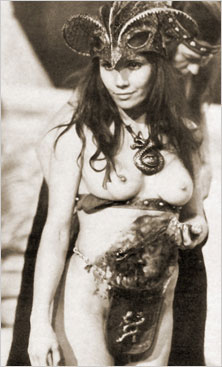 - Your scene in CONAN involves a stunt too, so I assume you did some rehearsal, to stage the whole choreography, the moves, your fall, etc?

- Yes. Terry Leonard [the chief stuntman] was the person who was in charge of that. We did rehearse the action three times... Only three, because I am very good at learning new stuff.

- Had you already done movie stunts, prior to CONAN?

- No, nothing similar. But as I am in rather good physical condition, this kind of action never really was a problem for me. Watch me for example in EL RETORNO DEL HOMBRE LOBO (Paul Naschy, 1980)... Or, more recently, in EL SEÑOR DE LOS LLANOS (Santiago San Miguel, 1987), which was filmed in Venezuela. In one scene of this movie, I am riding a horse and I was supposed to give the impression that the animal had gone wild and escaped my control, while trying to remain on the saddle all along the way! (laughter) It was a success! Unfortunately, this scene was not used in the final cut, due to time constraints, but I still remember that, at the end of the take, all the crew members that where there applauded my performance and saluted the challenge.

- And on CONAN, how many takes were there, when he kills you?

- Only one! Immediately after the rehearsals, the very first take was the one.

- Sandahl Bergman had an accident (her forefinger open to the bone) when shooting a part of the raid during the orgy scene... Were you ever concerned about Schwarzenegger missing his stroke and possibly hurting you?

- No, at no time! Arnold was very professional, and just to see the way he behaved and worked on the set was sufficient to trust and rely on him. As far as I can remember, we were not yet aware of Sandahl's accident at the time, so I guess it took place after the shooting of my scene.

- Tell me about your fake belly "wound"...

- I'm used to special make-up effects, since I had to deal with it on several occasions during my career (on this subject, I recommend you to see AQUI HUELE A MUERTO [Álvaro Sáenz de Heredia, 1990]). On CONAN, the effect was rather simple, compared to others which were much more annoying! Latex prosthetics, directly stuck to the skin, with some "fake" blood added all over it. Piece of cake! On another one of my movies, I remember the make-up session lasted between 5 and 6 hours for each transformation, and there were four of them! Amongst them, a transformation into a 200 kilos sow, with animated legs, etc. Very interesting work!

- How did Milius behave on the set?

- Him too, in a very professional way, as one could expect from seeing his movies. He mainly gave direction to those who needed some. But if the actor or the actress was able to do his/her stuff on his/her own, he did not say anything. In other words, most of the time, he was letting you do, and if he liked what he saw, he did not correct you. In my case, he never pulled me up and, at the end of the day, he himself even came to congratulate me... very warmly!

- Is it true that music was played in the background during the shooting, to put people "in the mood"?

- Yes, that is correct. Well, at least, some was played during the shooting of my scene. But I suppose that it is common practice outside this country [Spain], because on SCARAB (Steven-Charles Jaffe, 1982), the movie that I was referring to just a minute ago, in which I turned into a sow, there was also music played during the shooting, and, as a matter of fact, the exact same cue was later used in the movie, in that particular scene.

- We are currently working on some article dedicated to all the CONAN filming locations. Do you remember where exactly your scene was shot?

- I remember that it was in a large warehouse, near Madrid, but I can't show you the exact location on a map if that is what you want!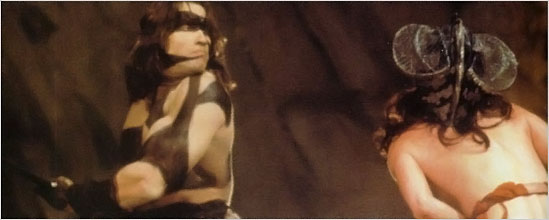 - Do you recognize this photo?

- Possibly... It was an old truck factory, that, I remember... Don't forget that I only stayed two days on the set and that I was performing at the theatre at the same time, every days, in a show where I was asked to both sing and dance. A cab was sent to pick me up then bring me back at great speed, so that I do not miss the curtain raising of the evening. My first day of shooting on CONAN corresponded to a closure day at the theatre, but not the second one. To tell you the truth, I guess that, on the way, I was probably more thinking about what a great life experience the day before was than really paying attention to which exact way we used to get to the set! (I vividly remember a certain talk I had with Arnold in the showers, during which we evoked the scene, the acting work, etc. We got along very well. It was a very strong moment for me...) But the location had to be very close to the capital, otherwise I would not never have been back in time to the theatre... Sorry not to be able to help you more!

- I read the whole warehouse was freezing cold...

- Yes, it was! But don't worry, coats were given to us between takes, to warm us up! (laughter) This said, to be completely sincere, once you really get into the action, you very quickly forget about the cold. Once you get into your character's shoes, all these immediate sensations become of secondary importance. Well, that's how it works for me, as far as I am concerned; when I am deeply involved into a character's situation, then I only feels what the character feels. Maybe that's the reason why, all modesty put aside, I was always considered a good actress here, in my country!

- By any chance, do you remember any other filming locations?

- I know some scenes were later shot in Almeria, but that's pretty much it... I bet you know better than me on this topic!

- We are also trying to identify the other orgy girls, none of whom are listed in the ending credits...

- I did not know any of them personally at the time, and still don't. But you have to understand that, in this movie, all the extras were unknown... I probably was the more "famous" one; or, should I say, the only one who had already have significant roles in movies or plays.

- While on the actresses subject, I heard that Nadiuska, who plays Conan's mother at the beginning of the film, became a... homeless person?! Any truth in that rumor?

- Sadly, that's not a rumor, it's the truth. For the seven last years (at least), she lived in the streets and was reduced to begging... I never saw it myself, but this was well documented in various TV shows... What a loss, really! For she was a very kind and good person, pleasant and nice. I had met her on several occasions, notably while working on a TV series for Telecinco, and she was just charming. What a pity!

- To end this interview on a more positive note, is there any anecdote relating to CONAN which you would remember or would like to share with us?

- Oh, yes, I remember something which really impressed me during this shooting. Budget-wise, it was my first international movie and I was not at all accustomed to see such a vast amount of money spent! We were about to shoot the entrance of the "giants" who are seen carrying this big pot, full of human rests; John Milius was checking every one of his cameras (there were at least five of them, set up here and there, covering the scene from various angles), looking into the eyepiece of each one of them, then, suddenly, he did not like what he saw in one of them... No problemo! (laughter) He immediately made everyone of us get off the set, sending all the actors and extras to another warehouse (the one where the make-up was done), and then bluntly ordered that one part of the set (one of the enormous temple columns) was destroyed! Which took so much time that, finally, the shooting was halted for all the rest of the day. Then came the time when I had to leave to go to the theatre, so I left. And with me, all the others, everyone going back to normal life... But, this day, everyone got paid as if nothing had happened, as if we had worked all day long, which obviously was not the case; they did not seem to matter much. What only seemed to matter the most was the final result (on the screen)... and it did!
- One last thing: we found some nude pics of you (some apparently come from a Dutch issue of Playboy magazine?), is this OK if we use them on our website, in the "Pilar Alcon gallery"?

- Yes, that's fine with me. For me, nudity is something completely natural. And I don't have any problem with nude photos of me, as long as it is done tastefully... In fact, if you want to know everything, I had left Spain three months to go to Holland, in order to shoot a foreign language video lesson there, meant for the Dutch audience - they, at the time, had a great interest in our language, undoubtedly because many of them come to spend their holidays on our (sea) coasts, in Alicante... This video was so successful that, the same year, they asked for me again, to host a TV special for Christmas, on the Vara channel. And, after that, I was offered to do a photo shoot for the Dutch Playboy edition! (laughter)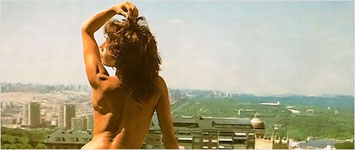 Interview (and translation) by: Protoplasme.
Text editing: MightyMcT.
(Special thanks to: Octopusmagnificens)